Napa Valley Art & California Landscape Paintings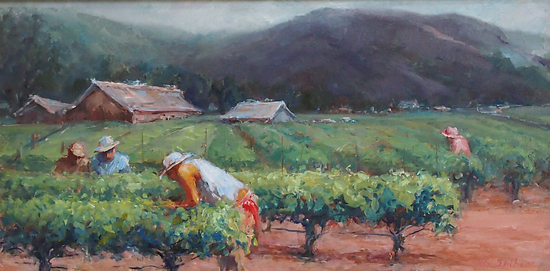 Under the Arch ... Mendocino, CA oil/canvas 16x20"
Please check out recent acknowledgement from FASO... Art Picks:
http://faso.com/fineartviews/80229/staff-picks-from-the-faso-daily-art-show-deirdre-shibano-wanda-cox-eric-bowman
WHEW! Had a fantastic week painting in the Mendocino MOPO Paint-Out second year in a row. Quite exhilarating... and exhausting! Painting in fog, cold and crushing wind in the middle of the summer! It was exciting to be with so many (74?) artists.. all attempting to catch a glimpse of the many facets of Mendocino by paint and brush ... No wonder people think artists are strange!
Member of Oil Painters of America, American Impressionists Society,
The California Art Club, The National Museum of Women in the Arts,
The Portrait Society of America and The Napa Valley Art Association
Deirdre Shibano is also guest Art Instructor for the Auberge Resort's
Calistoga Ranch in Calsitoga, California.
Presently teaching at the Napa Valley College, St. Helena Campus
Please see classes and coming events
Represented by Studio Kokomo, Calistoga, Xanadu Gallery, Arizona
CRFine Art, Fine Art America, and Napa Vallety Art Association.