Napa Valley Art & California Landscape Paintings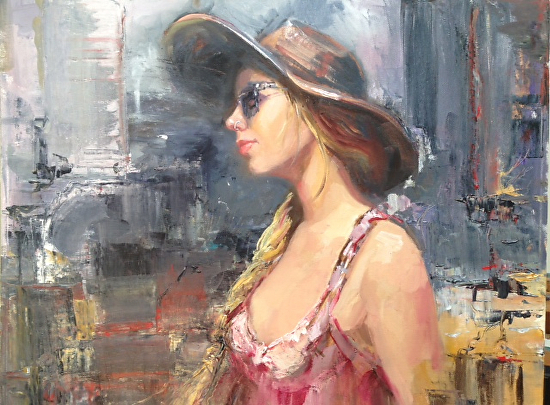 ANGEL ... oil/canvas 20x24"
I really enjoyed doing this painting... First and foremost, the subject is my
favorite. I love the sense of confidence and self-assurity that is evident in young
women today... Technically, this painting is fast approaching a direction
which I am wanting to go... tight brush work for the face and loose,
almost abstract handling of the background and fabric. A great deal of knife
work and digging through the paint... So as not to be formulaic, I try to be
sensitive to the subject and the intention behind each painting...
At a certain point the painting dictates how to handle the medium!
Member of Oil Painters of America, American Impressionists Society,
The California Art Club, The National Museum of Women in the Arts,
The Portrait Society of America and The Napa Valley Art Association
Deirdre Shibano is also guest Art Instructor for the Auberge Resort's
Calistoga Ranch in Calsitoga, California.
Presently teaching at the Napa Valley College, St. Helena Campus
Please see classes and coming events
Represented by Studio Kokomo, Calistoga, Xanadu Gallery, Arizona
CRFine Art, Fine Art America, and Napa Vallety Art Association.